The blue color is not the most usual among the flowers and perhaps this is why gardeners appreciate plants that bloom in this color. There are more than you think and here we bring to you a wide representation of plants whose flowers are more or less blue.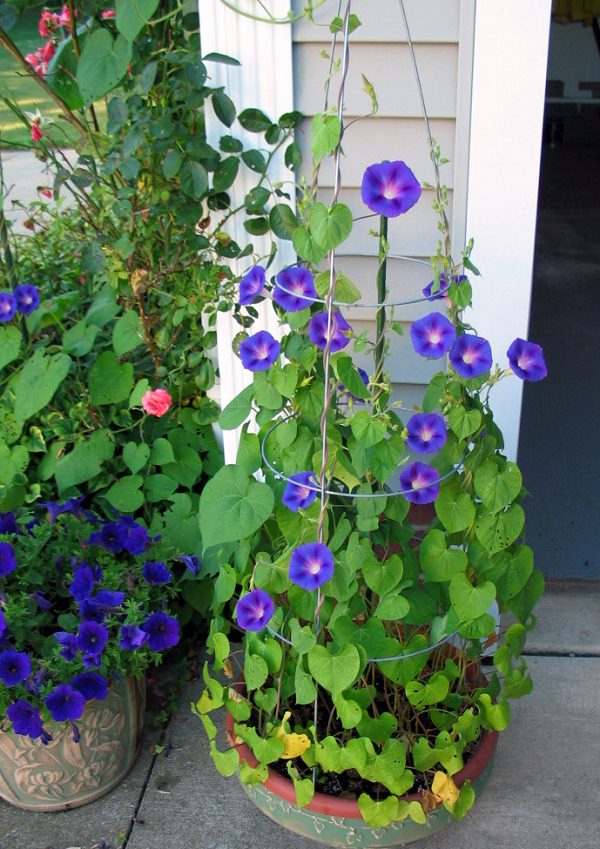 The Don Diego by day, bell or convólvulo, Convolvulus tricolor, is a climbing plant easy to grow. We can do this both on the ground as in the pot. In either case we will provide you with a structure to help you in your growth. You will need a medium-size pot or large, and can grow in full sun although in warmer places it will not go bad a little shade in the middle hours of the day.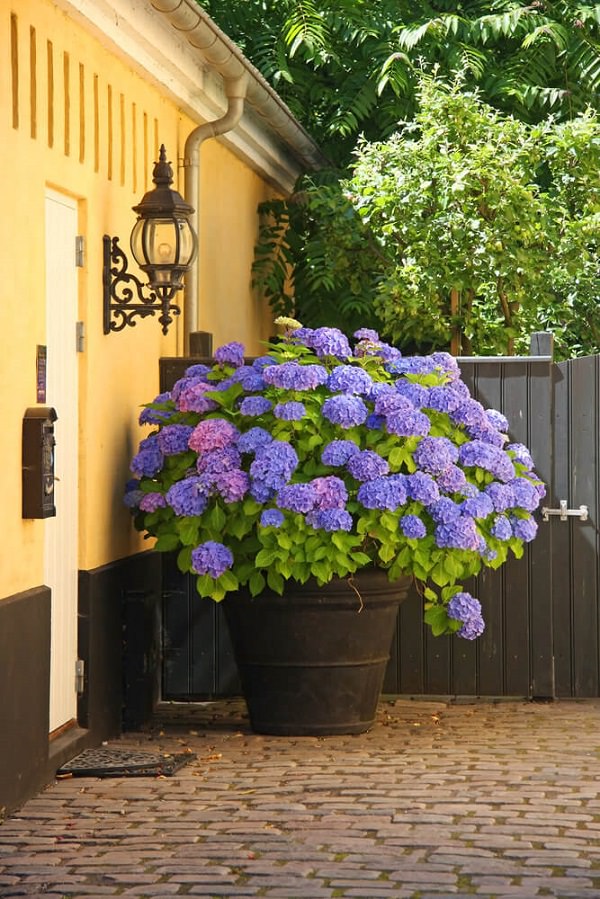 The hydrangea can be grown in places of cooler climate or temperature moderately warm. Remember that the hydrangea needs an acid soil for the flowers to be blue. We will need a large pot of at least 45 cm in diameter. The morning sun and afternoon shade plus a soil that is moist but well-drained soil are their basic needs.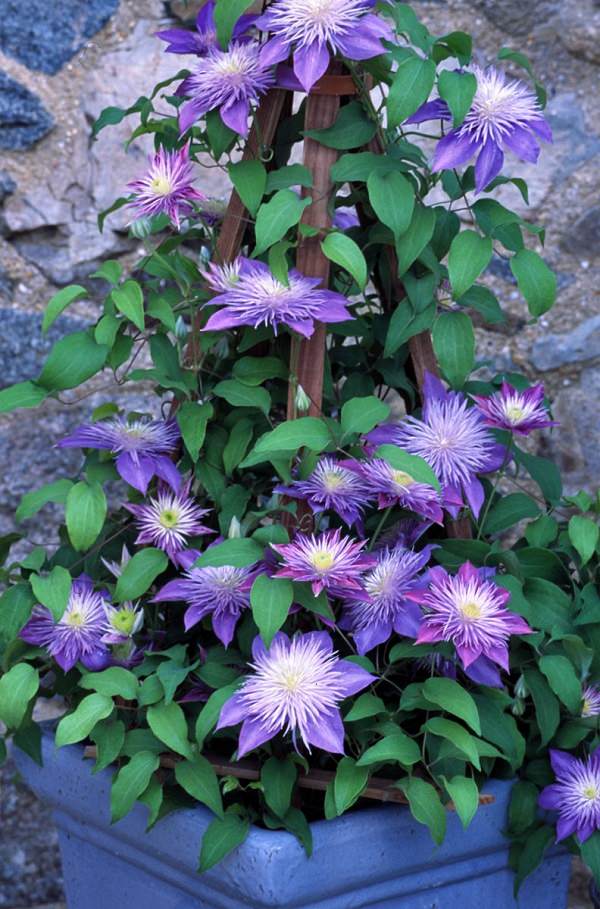 The clematis, Clematisis a plant that can grow in a variety of climates. You need a large pot and there are a large number of cultivars available to us. You will need trellising and grow in full sun.
The cornflower, tile or flower light blue, Centaurea cyanus, is grown as an annual plant and is adaptable to a variety of climates. It is a plant that can not miss in a garden, rustic-style. Does not exceed the height of 90 cm, and does not require large pots. It needs very little maintenance.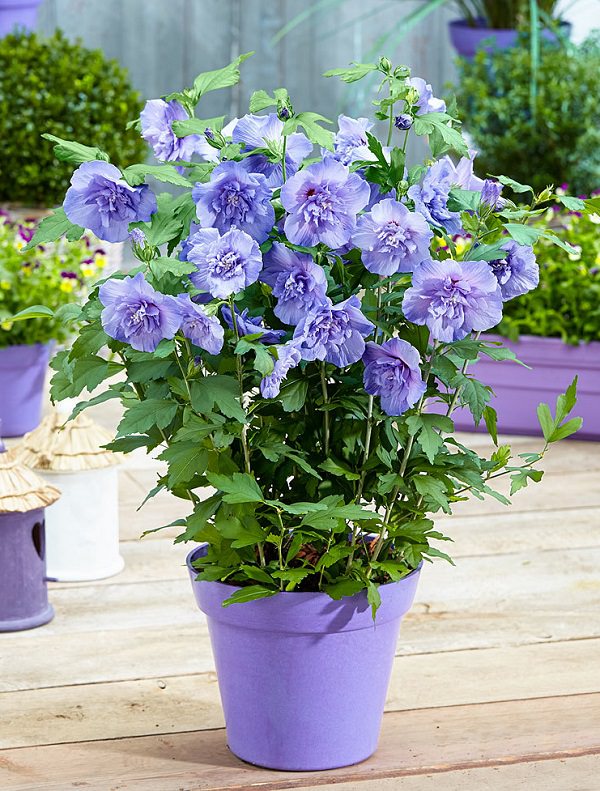 Althea or rose of Syria, Hibiscus syriacus, is a plant that prefers the temperate climates although with a little care can be grown well in warm climates. This hibiscus is very resilient and there are several varieties with blue flowers. You can reach the 3 metres of height by what you will need a large pot.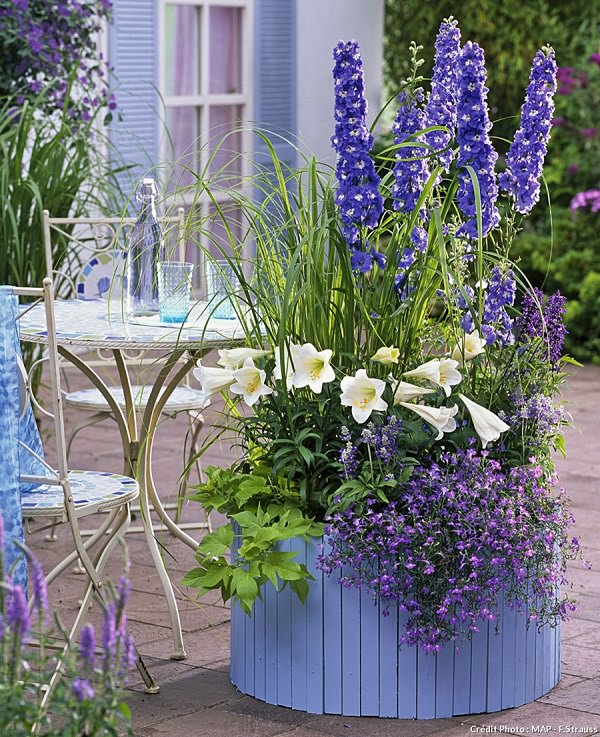 The delphinium , or bunnies, Delphinium ajacis, is easy to grow in areas of cool summers. Although it is used mainly in borders also can be grown in pot. The pot should be commensurate with the size of the plant.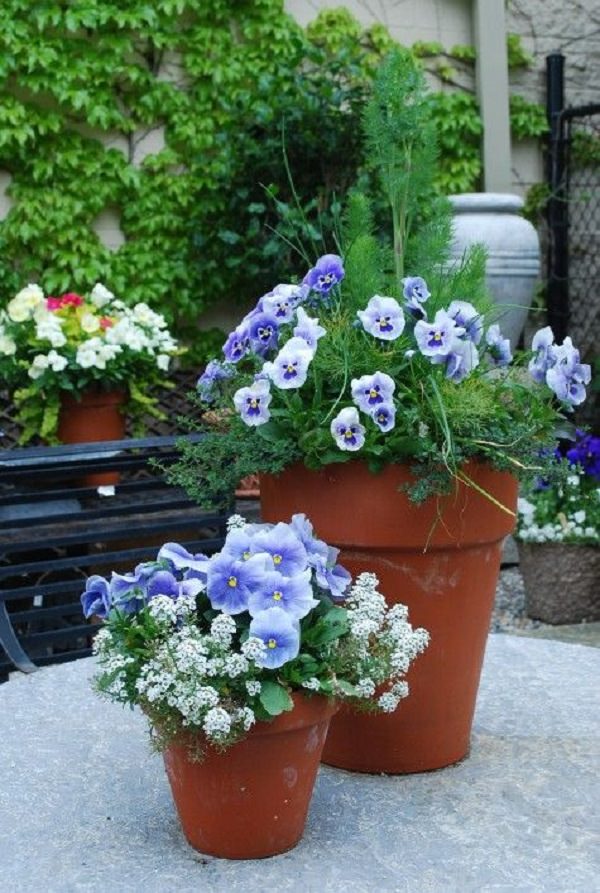 The thought or the trinity, Viola tricolor, can be grown as annual or biennial in almost all types of weather. They bloom in spring and autumn and also in winter in places of warm climate. Thoughts are of many colors and also in blue.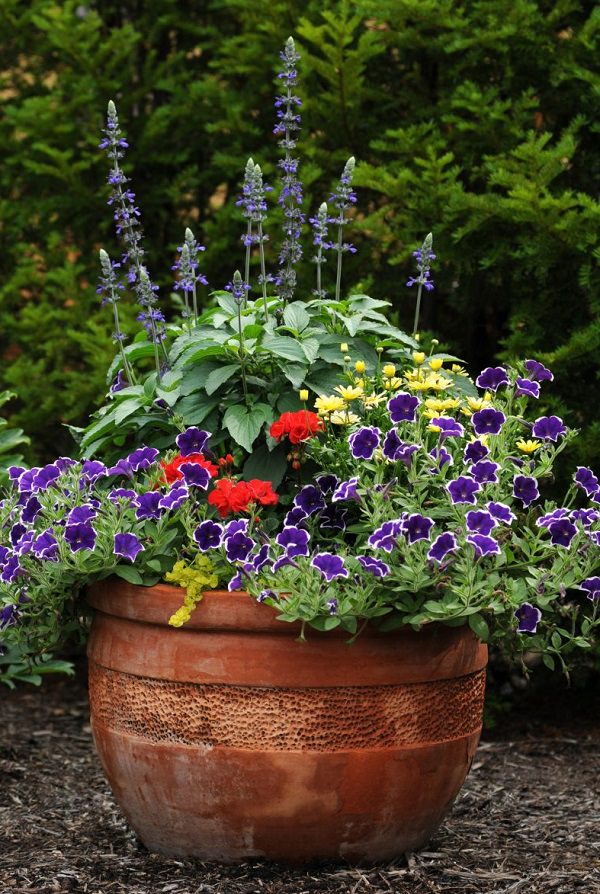 The petunias grow as annuals in all climates and as perennials in zones of warm climate. Is available in a variety of colors, among them blue, and it is a plant that blooms profusely.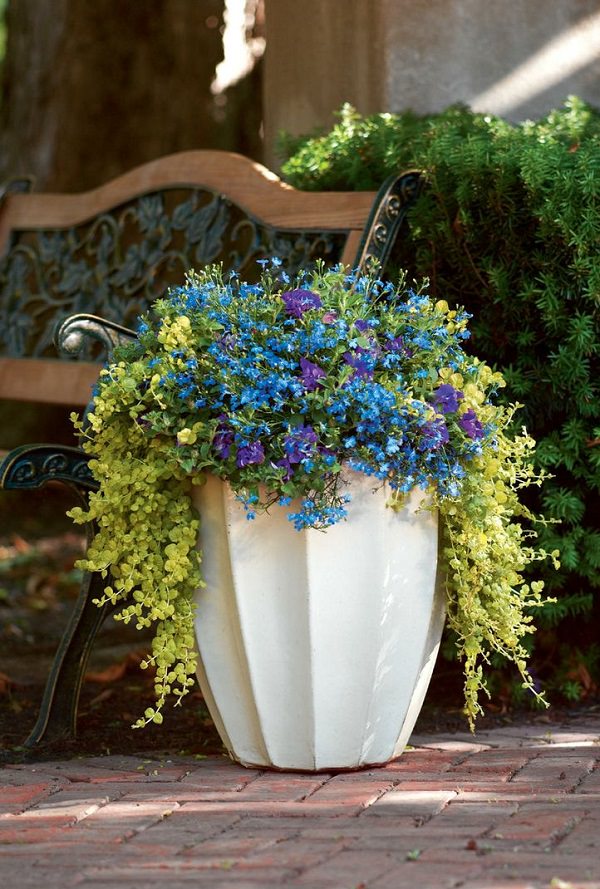 The lobelia is an annual plant which in warm climates can behave as a perennial plant of short life. It can be grown in small pots or large and stands out for its growth in waterfall. It is ideal for hanging baskets for it.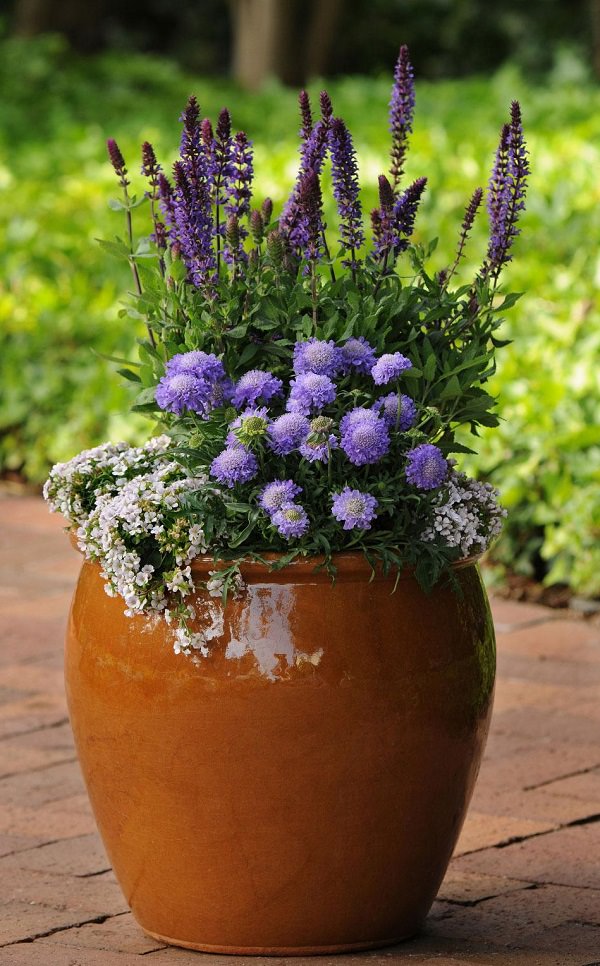 Scabious, Scabiosa caucasica, can be planted in any type of weather. In the colder we will treat it as an annual plant, and in the warmer as a perennial plant of short cycle. It is easy to cultivate in pot and in full sun in places with cool climate, in the hottest best left in the shade in the middle hours of the day. You do not need much maintenance and its flowering is very long.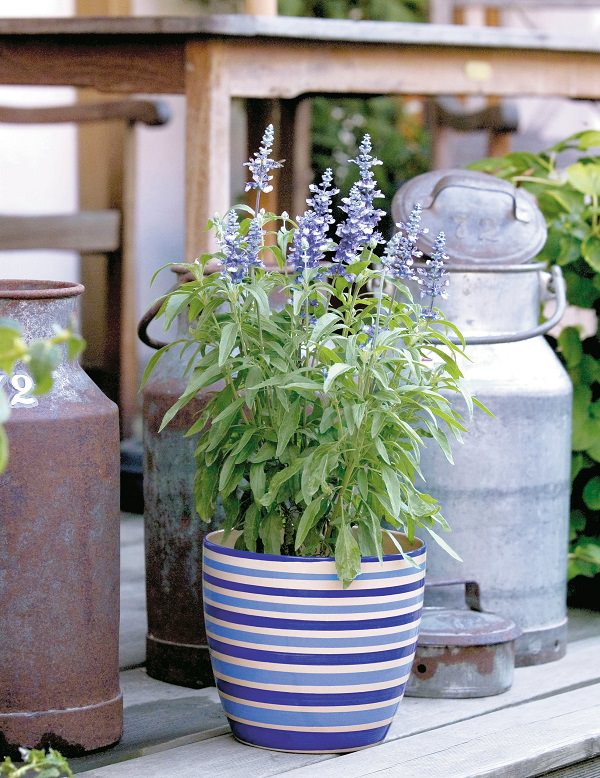 Most salvias prefer warm weather to grow as a perennial plant but they are very easy to grow even in cold areas as an annual plant. We will use a container of medium size and place it in full sun (afternoon shade in very warm zones). Keep soil always slightly moist, but ensuring that the soil drains properly.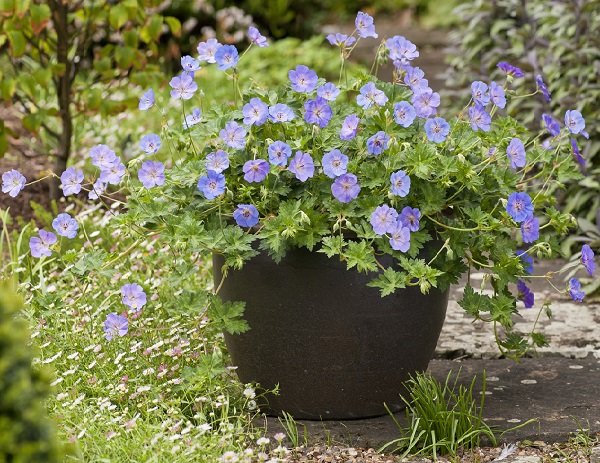 The geranium perennial, Geranium, tolerate the cold and grows best in areas of relatively fresh. It is low maintenance and grows very well when grown in pots. It is suitable for cultivation in pot or hanging basket.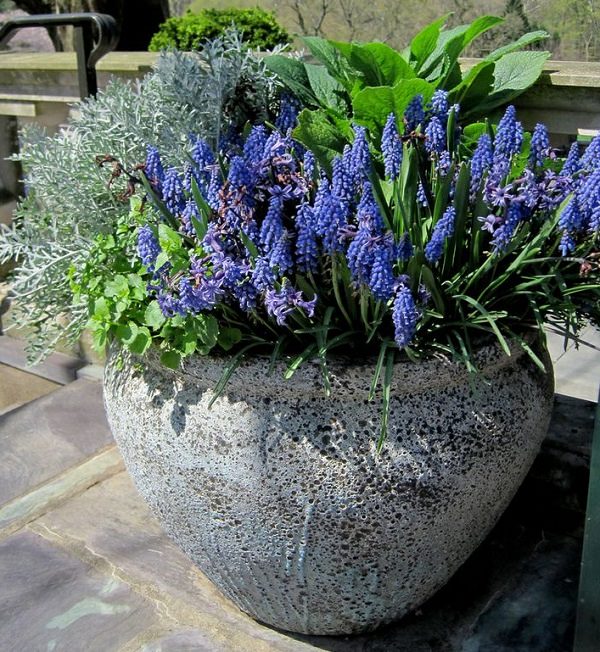 Muscari, Muscari armeniacum, is perhaps the most rustic and easy to grow plants that reproduce by bulbs. It is grown in full sun or in partial shade and you have to be very careful not to overdo watering. Try to have a very good drainage in your pot.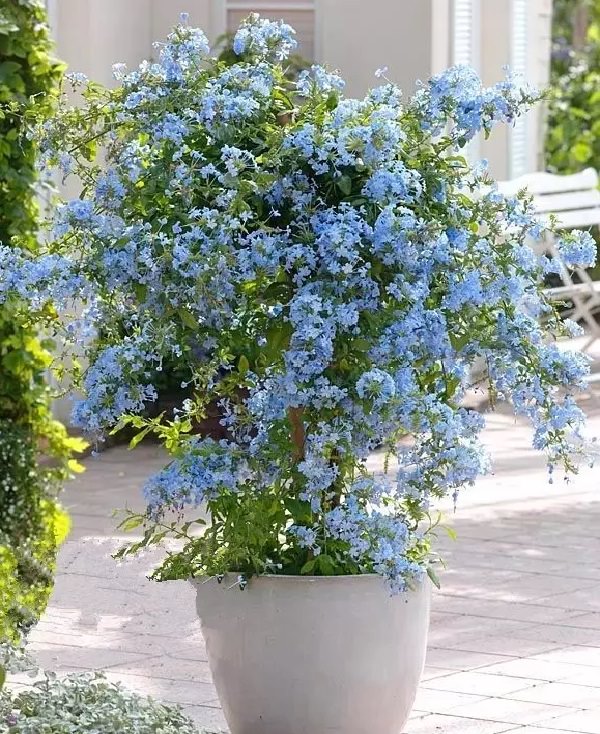 Celestina, jazmín azul, or plumbago, Plumbago auriculata, is a shrub climber which needs mild temperatures or warmer to thrive. We can grow in cold areas, always that the put covered during the winter.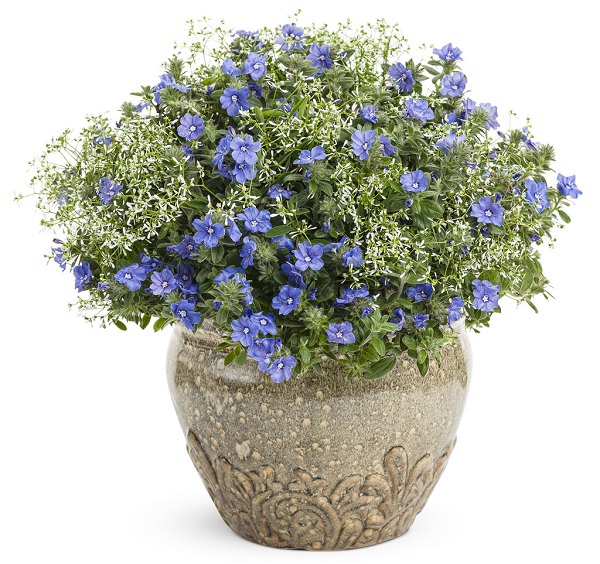 Evolvulus glomeratusis an herbaceous perennial of tropical origin. Like the heat and the sun for both. It can be grown in pots and also hanging baskets.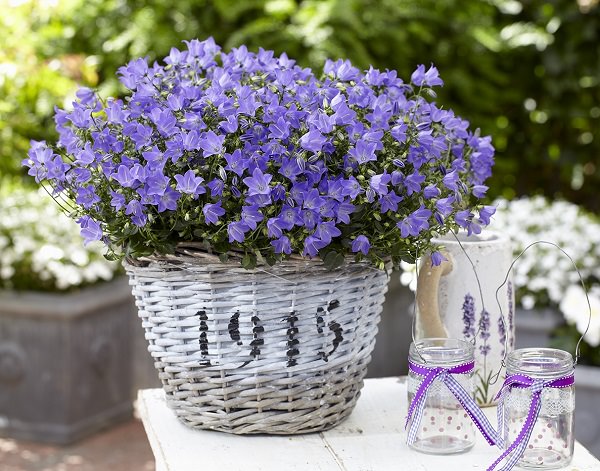 The bell, Campanula isophylla, is a plant that depending on the climate where you live will be a perennial, annual or biennial. You need a very bright, even a little bit of direct sun, not much. We have to keep the substrate always moist, in the summer when very hot weather we may have to water it every day.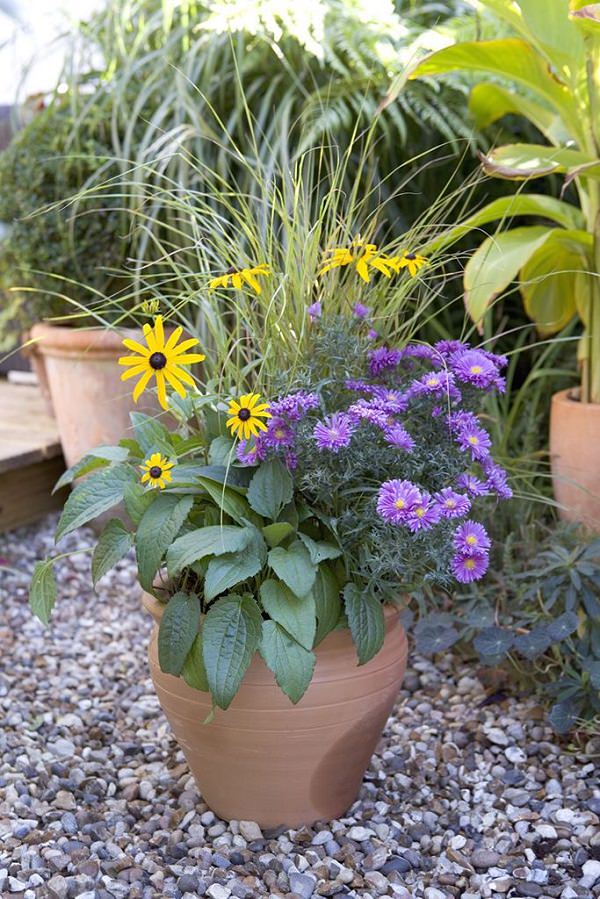 The aster of Scotland, Aster novi-belgii, grows best in places with cool summers. It blooms in summer and fall. You need a well-drained soil and watering abundant especially in the summer. The larger varieties can reach a metre in height although there are other that do not pass the 50 cm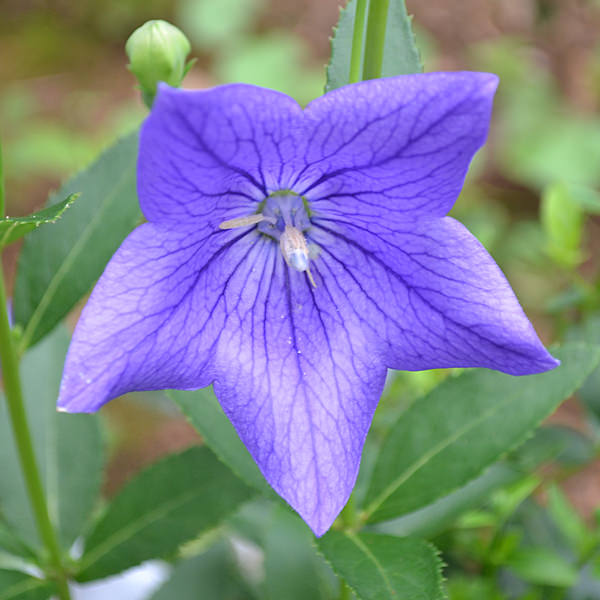 Platycodon or Platycodon grandiflorus is a plant suitable for areas of cold climate. It is easy to grow in pot and will have to keep it in full sun except in warmer zones where it is better to partial shade.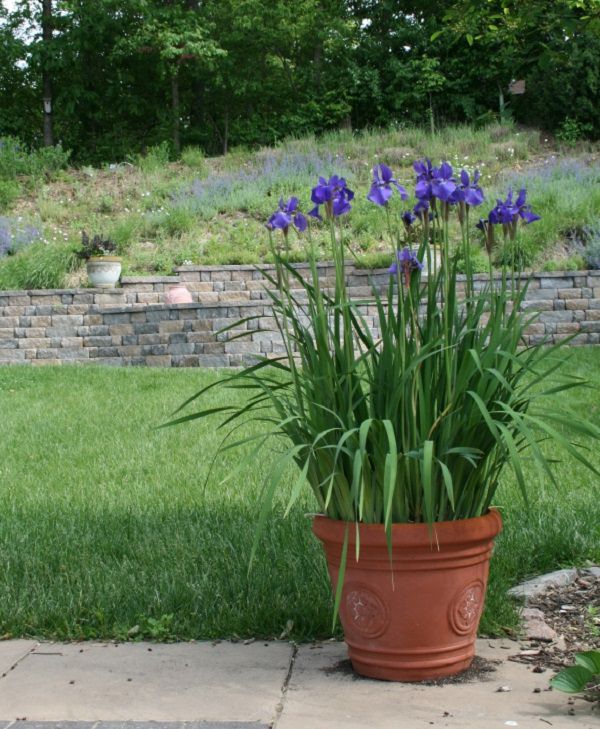 The lily or iris, Iris reticulata, also prefers cool climates or temperate. Although there are also varieties that can grow well in warmer climates. With a pot of about 30 cm in diameter will be sufficient. Install it in a sunny place and the regaremos regularly but only when the substrate looks dry.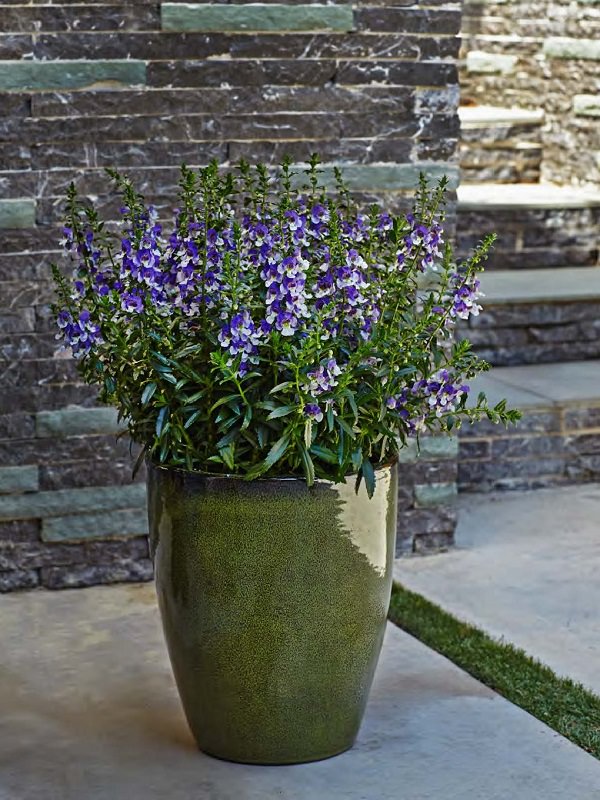 The angelonia or Angelonia angustifolia is another perennial plant that in cold climates it is treated as an annual. It is easy to grow and has a long flowering period that spans the entire summer.