The Stapelia hirsuta is a plant of the family Apocynaceae and its natural space is located in the South of Africa. Grows in dry places and terrain is stony and well drained. It is, as you can appreciate a succulent plant that is adorned with a spectacular flowering. In the massifs and rocky outcrops is one element to take into account combined with other similar plants.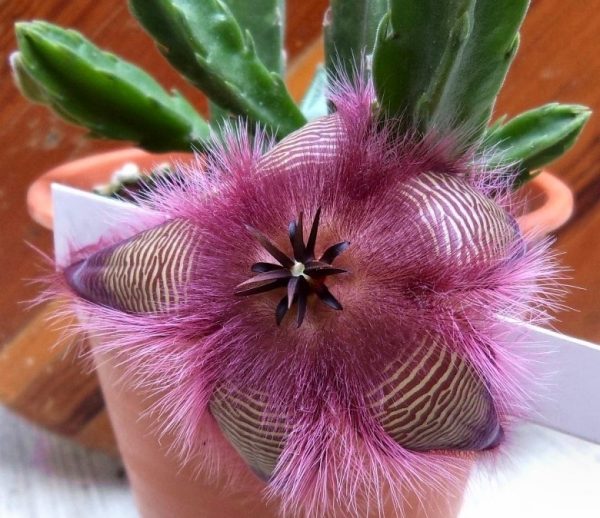 It is extremely adaptable, tolerating fairly well in cold and wet climates. But we must not stay only with its fantastic flowers, fleshy stems about 20 cm in length and with four edges jagged, remind us tremendously to some cacti. Although there is that keep in mind that this plant is not a cactus.

Although the plant does not grow too high, as we have said, if that covers enough ground as it can measure up to 2 meters in diameter. Obviously you can also grow it in a pot and limit the excessive growth if we cultivate it in the soil and we don't want it to expand so much.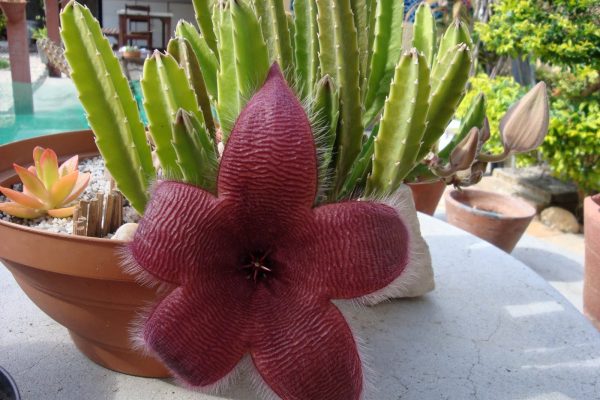 The flower buds are green and of pyramidal shape, and when opened develop these striking flowers stellate edges hair. When is florida is not a plant well suited to be in interior since its flowers have an aroma somewhat unpleasant, in addition to attracts insects such as flies, beetles and others. The flowering period begins in late summer and extends only until the autumn.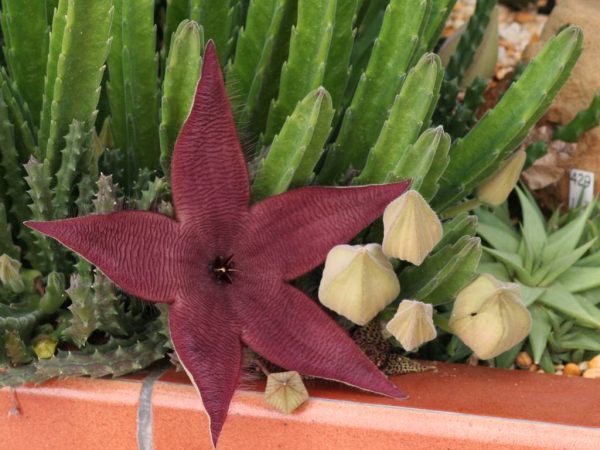 For its cultivation, we will choose a location that's sunny and fertile soil. Can withstand a little shade in the afternoon, which by the way will not do anything bad, especially in summer, if you live in a geographical area with a hot climate. The soil must have good drainage and should be rich in organic matter. The risks, although spaced, they must be regular. In the temperate zones will be convenient to keep the plant indoors during the winter.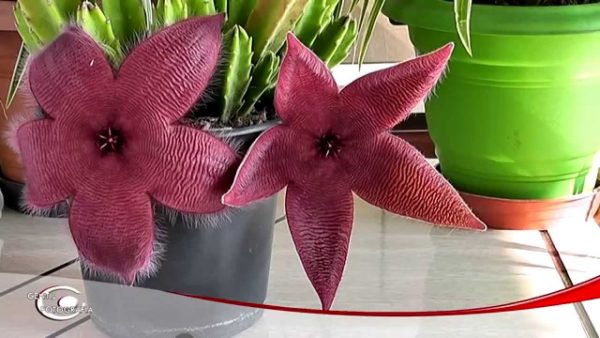 Every two years there is that transplantarla so you do not lose force and continue to grow properly. It reproduces by seeds and also by cuttings and division. A plant, this Stapelia hirsuta, which can be ideal to add some volume and color to a garden desert.
Jardinero Sotogrande